Gap insurance will protect you financially should your vehicle be written off. Your motor insurer will only pay you back the value of your vehicle at the time the vehicle is written off and, because most vehicles lose value, especially if they are new, this means the amount that your motor insurer will offer in settlement of the claim can leave you thousands of pounds out of pocket.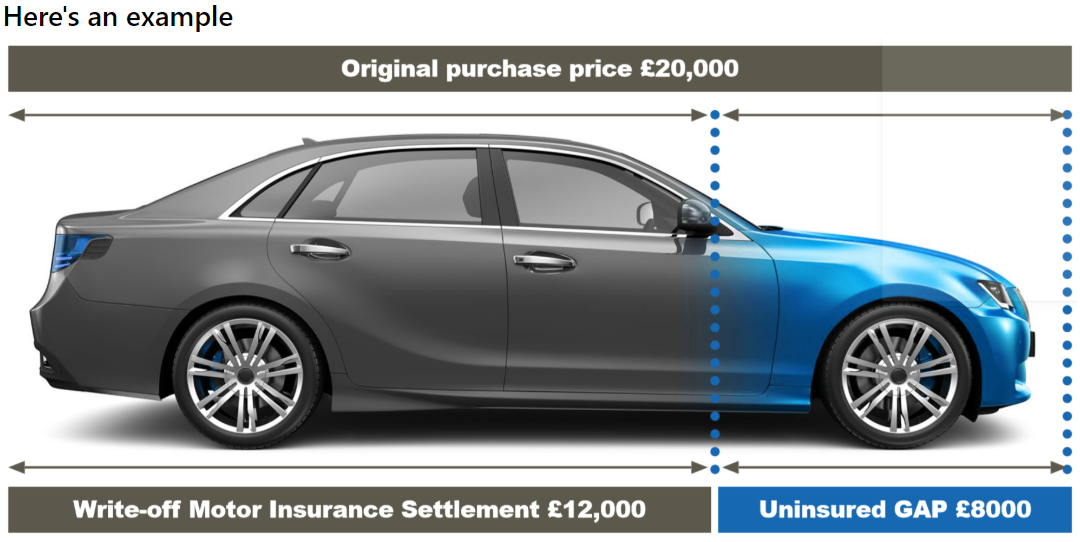 GAP Insurance: for when the 'Market Value' offered by your insurer is not enough to replace the vehicle with a similar one or pay off any outstanding financial liabilities.
Benefits
Highly competitive pricing - we take the lowest commission in the UK

Wider vehicle eligibility criteria and more flexible cover than competitors.

Can be bought up to 180 days after you have taken delivery of the vehicle.

Total Loss Protect GAP allows you to purchase GAP cover with no exclusion on the age, mileage or date of purchase.

Transferable to a replacement vehicle that meets the eligibility criteria.

Cover extends to Europe and any other country for which an international an international motor insurance card ("Green Card") in respect of the vehicle is effective at the date of loss, for a maximum of 90 days throughout the policy duration.
Eligibility
The vehicle is less than 10 years old and has less than 100,000 recorded miles* at the Policy start date

It has a purchase price of up to £100,000 (including up to £1,500 of factory and dealer fitted accessories endorsed by the manufacturer).

It is insured under a comprehensive motor insurance policy.

The policy is purchased within 180 days of the date when you took ownership of the Vehicle*.

Any finance agreement secured on the vehicle is in your name and that the original amount financed is less than or equal to the vehicle purchase price.

You are the owner of the Vehicle or in respect of contract hire and leasing contracts you are the authorised driver for the Vehicle.

* Total Loss Protect GAP is available if your vehicle is outside of these criteria
Significant exclusions:
If you are a business selling or servicing motor vehicles

Vehicles used for Hire & Reward

If causation is from an accident under the influence of drink/drugs

Claims made after 30 days

Claims procedure – if you accept an insurance settlement without prior agreement, only Market Value will be used to calculate the claim.

Salvage of the written off vehicle
Get a Quote!