Too often are we roped into buying something that we don't really need.
This is why it's important to weigh up your options when you're shopping around for breakdown cover, especially when there is such a variety in products on the market.
Roadside recovery and repairs can be expensive, but Breakdown Cover is a helpful way to keep costs down. The chances are that during your time as a motorist, you'll suffer a blown tyre or some sort of incident that makes your journey disruptive and pretty stressful, but Breakdown Cover is an efficient way of ensuring your vehicle is protected and that you can carry on with your journey smoothly.
There are hundreds of different policies available and when you're looking for the best breakdown cover online, it's important to know exactly what you're covered for, and what you aren't covered for. Here are five things to consider when finding the best breakdown cover:
1. Claim limitations
Many breakdown cover policies limit the number of call-outs per year. Consider the likelihood of how many times your vehicle could break down in a year – if you have a vehicle under 15 years old, it is very unlikely that you'd need to make a claim more than six times a year, which would mean a breakdown every two months. If you're experiencing breakdowns more often than this then you should probably consider getting a better car.
2. Vehicle Recovery, Onward Travel and Emergency Accommodation
Does the policy offer these benefits? Many policies will add an extra charge for these add-ons, whereas they are included in other policies as standard. Although they may seem like luxuries, they could save a lot of stress and panic if you were to experience an unfortunate breakdown, especially if you're miles from home.
3. General exclusions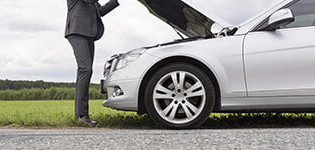 Bear in mind the policy's exclusions as you'll have to remain aware of these if you are to break down and the cause is not covered in the policy you take out. Most policies will not cover you if you run out of oil, fuel or water; if your vehicle is not roadworthy or hasn't been serviced; or if you have exceeded the limit of claims you can make per year. All these details can be found in your policy documents, so it's best to take a look before buying.
4. When your policy begins
Some policies may have a set time as to when your policy can begin, whereas with others, you may be able to choose when to start your cover. Consider these options when looking for Breakdown Cover, and keep in mind that a breakdown could happen at any time.
5. Type of vehicle
Cover is often tailored to the type of vehicle you drive. There may be policies that do not differentiate between cars, motorcycles or vans, but you may find a policy that is specific to your vehicle, such as van or motorcycle breakdown cover. The size of your vehicle may affect the type of policy you take out, too. If your vehicle is too big to be recovered by a standard trailer or transporter, it is best to find cover that is specific to the type of vehicle you own.
Finding the right policy
So we've established that breakdown cover is a very useful means of protecting your vehicle and really is suitable for any motorist. It may take a bit of searching, but once you find the best breakdown policy that meets your needs, you'll be thankful that you're paying for a worthwhile service that doesn't charge you for things you don't need, or charges you extra for things you do need.
To find out more about a policy that will meet your needs, visit our Breakdown Cover page and read more about Best Price Financial Services' comprehensive cover with no excess or call-out charge, vehicle recovery and onward travel as standard, and up to six claims a year, from just £30 a year.
---
---