Winter landscapes can be the picture of tranquillity, but unless you've got your skis at the ready, travelling can often be difficult.
More than just the level of traffic you may encounter – a lot of people will be driving home for Christmas or to see friends and family in the coming days – there are also the natural hazards which come with the weather. So don't let a car breakdown make you miss Christmas dinner – check out our winter driving tips.
Check your fluids
When we say fluids, we mean everything – fuel, oil, brake fluid, screen-wash, coolant (antifreeze), even the power-steering fluid. If this last one hasn't been checked in a while then it's worth looking at it as it may need topping up, but remember to carry this out only to the instructions in your car's manual. All these aspects are vitally important – your engine and each of its component parts will get very hot through use and friction, and so needs oil to keep it lubricated. Without enough oil, your engine will seize up and effectively weld itself together, causing irreparable damage.
As the name suggests, coolant is a liquid used to absorb the heat of the engine and prevent it from overheating and becoming damaged. When in use, it is circulated through the radiator at the front of the engine compartment to be cooled down by the air allowed in through the car's front grill.
Coolant is made up of a 50/50 mixture of distilled water and antifreeze, which, as the name suggests, helps prevent the liquid from freezing over in the winter months by reducing its freezing point. It's especially important to check this before your winter journey, and make sure to only top up with good quality coolant in the right mixture. The chemicals also aid by raising the coolant's boiling point, helping to prevent overheating when the engine is working hard. A lack of it will cause problems for your engine, but the mixture will also degrade over time and become acidic, causing corrosion to component parts. For this reason, it's important to ensure that your coolant is checked regularly and topped up – or even changed – if necessary.
A last note on fluids – if it's looking to be a long journey then you may want to keep a little winter warmer for yourself too, so a flask of tea or coffee will keep you going if you're not so keen on too many service stops.
Inspect your tyres
When checking your tyres, take a good look at their pressure as well as tread wear. Your car's manual will tell you what pressure your tyres should be kept at (the information will also be readily available online), and this is a particular bit of maintenance you should carry out at least once a month. Don't be tempted to lower the pressure in a bid to increase grip in snowy conditions; whilst this could help if you were stuck and unable to move, it's not recommended when driving and may end up doing damage to the tyre overall. In such conditions, the best idea is to avoid driving altogether, but if you really have to then don't forget to take care and drive slowly – unless you fancy your hand at drifting, that is…
Winter tyres are a good idea if snowy conditions are on the way, and if the roads are completely covered in snow then attaching snow chains to your tyres will improve your grip. If you're travelling through the more mountainous areas of Europe, such as in Switzerland, Germany and Austria, then you will be required to carry these and use them as instructed by local road signs. Be aware though that snow chains should only be used on snow-covered roads – using them on tarmac can cause damage to both the road surface and your wheels.
Lastly, when inspecting your tyres, don't forget that this includes your spare one too – there's nothing worse than having to remove one wheel, only to find that your spare has a puncture and is unusable.
Keep a car-kit together
Aside from the basic things which should be kept in your car, such as a jack and removal tools for if you ever have to change a wheel, there's a whole range of items which will help out on your Christmas journeys.
Raincoats and hi-vis vests will be useful should you experience a breakdown and be forced to stay out of the vehicle. This is particularly important in motorway driving – at no point should you stay within or next to your car if you're left on the hard shoulder. A red warning triangle is
useful to keep to hand if you ever experience a vehicle breakdown, but all motoring groups will advise drivers to never use these in a breakdown on the motorway, as the danger of setting one up at a distance from your vehicle completely outweighs any benefits to the safety of you, your vehicle or any other drivers. Having a good Breakdown Cover policy as part of your winter driving kit will make sure you're not left stranded, and with onward travel included as standard, there'll be no worries about getting home in time for Christmas dinner.
At winter time, a small, compact shovel will also be a good investment, should you ever have to dig your tyres out of snow. And if you're taking a trip with all the family then entertainment will be paramount in your priorities; idle minds may lead to mischief, so make sure the kids are well kitted out with whatever handheld games consoles or toys they'd like to take along for the ride. Failing this, you can always keep them occupied for hours with a simple car game – see our quick guide on car games with the kids, with contribution from father of two John Adams, parenting blogger over at DadBlogUK.
Look after your battery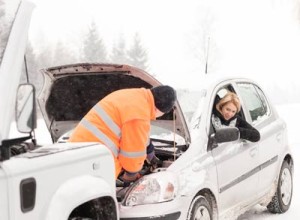 The older a car battery is, the more susceptible it becomes to losing charge. Some sources will recommend that you change your car's battery every 5 years, but this is completely dependent on use. Regular use for varied distances and in a range of conditions should mean that your batteries maintains a good charge.
However, winter weather can take a heavy toll on your battery, as you struggle to keep your vehicle warm and the windows clear. Sparing the battery's energy by switching off any window heaters or fans which aren't completely necessary may help you avoid breakdowns. This is especially important if you hit heavy and prolonged traffic, in which your slow speed won't allow the battery much chance to recharge itself. Overall though, any sacrifices to your car comfort should never be made at the expense of your safety, so if you're really having issues with keeping your windscreen clear then visibility will be more important.
Be aware whilst on the road
Any experienced driver will understand the many and varied dangers which affect road users at winter time, but when you're in a bit of a hurry, these things can occasionally slip your mind. It's important to take care then, no matter what journey you're making over Christmas time.
Visibility can always be an issue in winter, whether it's rain or snow, so if you're having real difficulty then there's nothing wrong with slowing down and stopping somewhere to let things blow over – safety is far more important than punctuality. Another visibility issue to look out for – or not, as the case may be – is the low winter sun, which can be dazzling if you're on a rise in the road.
In particularly cold spells, watch out for black ice. This is the coating of ice that can occur on the dark road surface and is so thin to be almost completely transparent, making it extremely difficult to notice. Therefore, if conditions are bad but you find yourself in an open stretch, take care and don't be tempted to put your foot down – black ice is extremely hazardous to drive on.
If you do find yourself quite literally on thin ice then keep your driving as smooth and controlled as possible – avoid slamming on the brakes, using the throttle or over-steering. Losing control of your vehicle can be an extremely frightening experience, but keeping your speed to a minimum will help to prevent a crash or a breakdown. If conditions are particularly bad then it's best to stay off the road entirely.
There are more tips from the law side, by Richard Harris personal injury lawyers – in order to avoid accidents and in case you got into one.
However far you're travelling this Christmas, don't forget to take our Breakdown Cover with you.
Offering no excess and prices from as little as £30 for cover all year round, it's the one travel companion you should never go without.
Cover starts from just
£30 per year
---
---