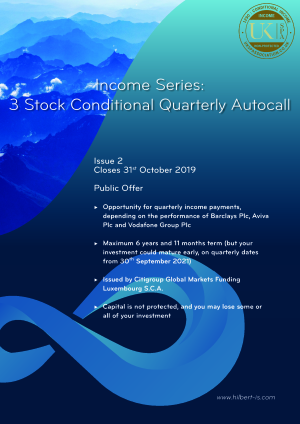 Hilbert New Launch: 12% Income: 3 Stock Conditional Quarterly Autocall – Issue 2 (October 2019)
https://www.bestpricefs.co.uk/hilbert-structured-products/
Hilbert Investment Solutions has launched the 3 Stock Conditional Quarterly Autocall – Issue 2, a new structured product linked to the performance of three FTSE 100 stocks, Barclays Plc, Aviva plc & Vodafone Plc, The product aims to provide investors with an Income of 12% per annum (pro rata temporis), even if one of the share prices were to have fallen up to 40% from their fixed strike level.
The plan is now available through either direct investment, ISA or a self-invested pension plan (SIPP).
The 3 Stock Defensive Autocall features a 6 year and 11-month investment term but could mature early if the closing levels of all 3 stocks are at least equal to their strike level on any of the quarterly measurement dates from the 30th of September 2021.
Should this occur investors will receive a final Income payment of 3% and the repayment of the investment in full at that point, under contract.
Initial capital will be at risk if on the 30th September 2026 at least one of the 3 stocks is more than 50% down from its Strike level. If this scenario occurs the repayment of your initial capital will be reduced by the same percentage amount that the worst performing of the 3 stocks has fallen in value from its Strike Level to its Final Level on the final valuation date. For example, if you had invested £10,000 into the Plan and Barclays had fallen by 30%, Aviva 45% and Vodafone 51%, then repayment of your investment would be reduced by 51%, to £4,900.
This product is somewhat different to what you may have previously seen in the UK market as the strike levels of the shares are already pre-defined before investing (please refer to the Investment Guide for these pre-defined levels).
Don't Forget the Risks
https://www.bestpricefs.co.uk/hilbert-structured-products/#risks
As with all forms of investment there are risks involved. These plans do not guarantee to repay the money invested. The potential returns of the plans and repaying the money invested are linked to the level of the stock market and also depend on the financial stability of the Issuer and Counterparty Bank.
The promotion of the plans does not constitute 'advice' to invest. Advice is always specific to an individual investor's circumstances and needs, following the process of 'know your customer', with the aim of ensuring that any product is suitable for an investor.
As always, the recommendation and common sense approach is to consider product solutions as a portfolio, never over-exposing oneself to a point of financial pain and suffering liquid or counterparty exposure.
As always, if you require advice simply get in touch.
Warmest Regards.
Best Price FS Team
Please follow and like us:
---
---