You wouldn't leave your loved ones without financial support when you die, so why take the risk when you're alive?
Income Protection Insurance is there to help if you're out of work due to a serious illness or injury. Life Insurance works in a similar way as it supports your family financially if you are unable to provide for them, but doesn't provide help in the here and now like Income Protection will.
Who needs insurance?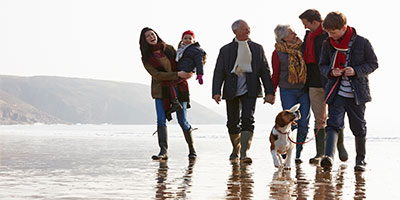 Both Life Insurance and Income Protection Insurance are suitable for people with dependents, as payouts would help provide for your loved ones to avoid unnecessary stress, worry, or financial hardship.
Life Insurance is particularly helpful if
you have outstanding debt or mortgage payments, and the payout could also help fund funeral costs and to help your family pay for everyday expenses, from education fees to the weekly food shop.
There's always a risk of becoming ill or injured, and if this means you won't be able to complete your job and pay the bills, you should consider income protection insurance.
Just 12 per cent of employers support their workers for more than a year if they are off sick from work, and given the low level of state benefits, Income Protection should be considered by everyone of working age. With 36 per cent of people having no strategy to cope with financial hardship, Income Protection Insurance could make an incapacitating illness or injury easier to financially cope with.
Can you afford not to have Income Protection Insurance?
Whilst Life Insurance will only pay out after death, Income Protection Insurance pays out when you need it, depending on the deferral period you choose. So realistically, you won't benefit from Life Insurance whilst you are alive. This is where Income Protection comes into play. 50 per cent of cancer sufferers aged between 25 and 44 survive for at least three years, and 50,000 of us will suffer a stroke under the age of 65. This means that there is a high risk of being ill or injured which will result in being unable to work, and in this case you'll need financial support. The average household could get by for just 72 days on savings alone, but 33 per cent of households do not have any savings.
When we are three times more likely to suffer a serious illness or injury that makes us unable to worth, rather than die, can we really afford not to have Income Protection Insurance? Income Protection is paid out in monthly instalments of 50 to 70 per cent of your normal monthly income to protect you until you return to work or retire, until death, or until the policy term ends, says the expert from Procom Insurance Company Kendall Fl. In this way, it's a vital financial safety-net to provide for your family if you are injured or ill and unable to work.
Life Insurance or Income Protection?
So it's clear that Life Insurance and Income Protection Insurance are both important, but which one more so? Well really, there isn't an answer. The policies serve different purposes and are equally important if you want to secure the future of your dependents. Almost 27.9 per cent of people have life insurance, whilst only 9.4 per cent of workers are protected by Income Protection Insurance. To the policyholder personally, Income Protection Insurance is more worthwhile as you will actually be able to enjoy the payouts if you are eligible to make a claim. Whilst life insurance can only be paid out when you die, Income Protection Insurance is a simple and comprehensive way of coping financially if you were unable to work due to an illness or injury.
Comparing these two policies to find the better one isn't easy. Many would say life insurance would be more important, but without Income Protection, how would you be able to pay Life Insurance premiums if you were out of work? These two policies work extremely well side by side, with Life Insurance to help your family when you're gone, and Income Protection Insurance there to protect you and your family if you are put out of work. Overall, both really will be valuable investments, so the choice is down to you.
Sources :
Deadline to the Breadline Report 2014
---
---