Time to recognise the value and benefits of including best of breed structured products in portfolios!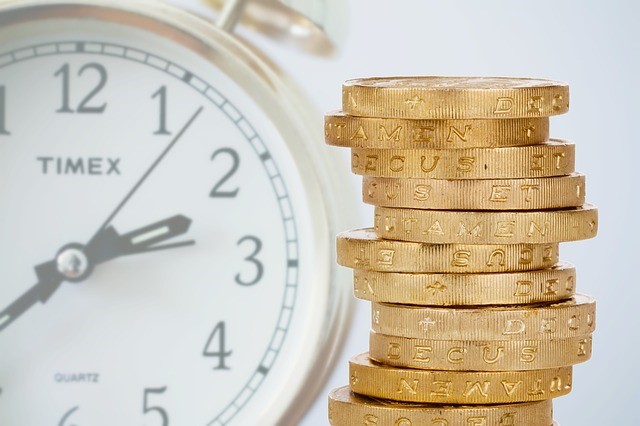 The statistics speak for themselves …
For those of you who like interesting statistics, here are some about mutual fund performance for 2018, which contrast starkly vis-à-vis the stellar performance of maturing structured products in 2018.
Disappointing mutual funds performance in 2018 (in contrast to stellar structured product performance)
There are 2,592 mutual funds in the IA (Investment Association) universe in the UK. In 2018, 2,377 (c.92%), of these funds produced a negative return for investors. 13 posted a return of exactly 0%. While just 202 (c.8%) generated a positive return. Only 3% of mutual funds delivered a return of more than c.2% for the year.
We noticed these statistics after leading fund manager Terry Smith, drew attention to them, in relation to his own performance during 2018 (2.2% for the year):
https://gallery.mailchimp.com/03161d6ca4cecca6092a0798c/files/fcb549aa-1c05-455f-b408-29ddf4d72d32/Terry_Smith_defends_weakest_returns_since_inception_for_
Fundsmith_Equity_Investment_Week_22.1.19_.03.pdf
Clearly, the last year or so has not delivered great outcomes for too many investors – including those investing with other advisers and DIY / self-directed investors!
We advise on an independent basis, considering the full universe of investment options objectively, without bias or dogma, using best of breed mutual funds, where our risk adjusted returns have been of the highest order. We are very proud of our long term risk adjusted results and our commitment to our clients/investors.
The next 10 years look set to be more challenging than the last 10 years …
A point that we have been making for a long time now is that many investors should be carefully considering the likelihood that it will be harder to make such strong returns in the decade ahead of us as were enjoyed in the decade now behind us … when, frankly, it was quite hard not to make strong positive returns!
This is becoming more and more widely accepted. But what is the answer for investors who feel like they are stuck between rocks and hard places, not being able to stay in cash, with inflation eroding its value, but not feeling overly bullish about equity markets?
In our view, the more challenging market environment favours structured product strategies. Not all structured products – we are certainly not saying that – but it is hard to identity investment strategies that are better suited to the current and foreseeable investment environment than 'best of breed' structured products. Especially when you look at comparable statistics for structured products – that were marketed through professional adviser firms – that matured over the same period of 2018.
Shining a light on the statistics and facts of structured products performance …
In a year in which the FTSE 100 fell over 12%, not a single maturing structured product, out of nearly 400, created a loss for investors! That is a very compelling fact, which warrants the increased investor recognition that the sector is enjoying.
In total, just 23 products (c.6%) returned capital only. Of the 23 products that did not return a gain, all but two were deposit based or capital protected contracts. While 358 (c.94%) generated positive returns, with an average return of 6.33% p.a. The average of the top quartile of maturing products was higher still, at 9.25% – a compelling consideration for investors.
And it is critical to remember and understand that most structured products provide investment strategies which do not need the market indices to rise in order to generate positive returns, with protection on the downside if it falls.
It really is hard to identify investment strategies better suited to the current investment environment. And the efficacy of structured products and their ability to add value within diversified and balanced portfolios for investors, within the investment environment we are now in, should be clear.
As always, we must make a regulatory statement – Past performance is no guide to future performance and unit prices can fall as well as rise.
Some examples of 'best of breed' structured product, currently available for investment …
Structured products are capable of offering – and the evidence is that they are delivering – high single-digit potential returns for investors, with compelling risk / return profiles. In fact, there are certain plans offering the potential for high double-digit returns.
As some examples of market leading, best of breed, structured products, we would draw our clients' attention to Tempo's current product range.

Tempo's Long Kick-Out Plan Option 3 offers a coupon of 14.75% p.a. Its Long Growth Accelerator Plan, Option 1 offers a tantalising 17% p.a. at the 5th anniversary, while Option 2 offers an eye-catching (or should that be eye-watering?!) 28% p.a. at the 5th anniversary (as detailed above). Yes, you did read that correctly, it offers the potential for a 140% return (plus repayment of capital) at the 5th anniversary, i.e. a 28% per year (non-compound) return against a barrier level of 60%!
The following table highlights the significant increase in the terms of Tempo's latest products, compared to recent issues, as the result of the current market volatility (and increased dividend yield, due to the index level being lower):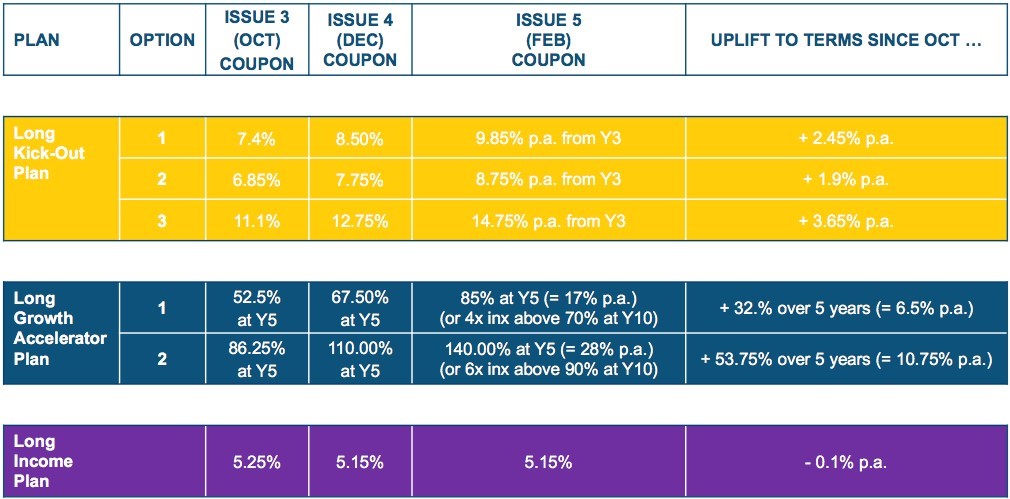 As can be seen, the uplift in the terms of Tempo's current products, compared to the December and October issues, is really significant.
> Option 3 of the Long Kick-Out Plan now offers 14.75% p.a., i.e. an additional 3.65% p.a.
> Option 1 of the Long Growth Accelerator Plan, at the 5-year kick-out point, now offers 85%, i.e. 17% p.a., an additional 6.5% p.a.
> Option 2 of the Long Growth Accelerator Plan, at the 5-year kick-out point, now offers an incredible 140%, i.e. 28% p.a., an additional 10.75% p.a.
These are the same products as previously, with the same conditions for returns to be generated, with a potentially better entry level for the index, so these materially uplifted terms present really compelling opportunities for investors.
These should be viewed as 'buy now while stocks last' products … if the plans are suitable to meet your needs.
https://www.bestpricefs.co.uk/tempo-structured-products/
Don't forget the risks …
Of course, as with all investments, there are risks involved.
Whether or not structured products generate the potential returns for investors usually depends on the closing level of the relevant index that the plan is linked to, on the relevant dates for the plan, i.e. the kick-out and end dates, etc. If the relevant index for the plan closes below the level needed, for the plan or plan options chosen, on all of the relevant dates, the plan or plan options will not generate a return.
And the repayment of money invested at maturity may also depend on the closing level of the relevant index on the end date, with the potential for loss of capital if the index closes below the percentage of the start level that nay protection barrier is set at. For example, if the barrier is set at 60% of the start level, and index has fallen by 45%, the repayment of money invested will be reduced by 45% (meaning that investors will get 55% of their investment back).
And both the potential returns and repaying the money invested depend on the financial stability of the Issuer and Counterparty Bank. If the Issuer and Counterparty Bank become insolvent, or similar, or fail to be able to meet their obligations, it is likely that investors will receive back less than they invested.
We are very careful to explain the risks just as clearly as the benefits of structured products – and we provide extensive information on our website to help investors understand these risks in detail.
Don't forget the Risks – https://www.bestpricefs.co.uk/structured-products/long-growth-accelerator-plan-option2#risks
Call to action: you may not see better investment terms on products than are available right now …
Take a good look at the structured products available right now – as the terms are exceptional. Tempo's products, in particular, are offering materially improved terms for investors in the current tranche, which represent really compelling opportunities for investors.
A balance of investment products, to achieve a diversified portfolio, is always recommended, using 'best of breed' long only mutual funds, along with 'best of breed' structured products and structured deposits).
Buying products without taking advice provides no regulatory protection via the Financial Ombudsman Service (FOS). We offer advice services, and advice is always specific to the individual circumstances and needs of the investor. The products detailed in this document should not to be taken as a recommendation to invest: a recommendation would be personal to your needs. As always, if you would like advice, or if we can help in any way, simply get in touch.
Please contact us to discuss any interest that you have in any products, to find out more about the Best Price commitment to provide best information, best service and best price execution for investors, including discounted advice services.
Best Price FS Team
Please follow and like us:
---
---