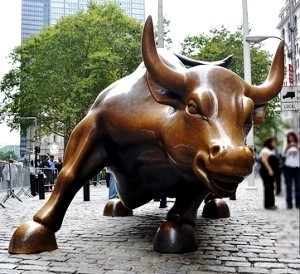 The End is nigh! The Bull investment markets run out of steam……
2018 started off strongly – until the first period of volatility in February… although recovering to hit record highs midway through 2018.
Volatility followed, leaving a tough year for investors and evidencing some asset managers "swimming naked" – http://buffettpedia.com/tag/warren-buffett-swimming-naked-quote/
Asset Prices
Asset Prices are considered by many analysts to be 'at fair value' and reflect a long term buying opportunity but the political uncertainty remains high, driving sentiment negative, which in turn drives selling and a 'risk off' view, resulting with risk asset prices falling.
An example of sectors that have reduced by more than 25% is the Banks in certain geographies and auto makers and the supply chain.
Investment market sentiment does not directly correlate to the economic output but sometimes negative sentiment spills over into the general economy, especially when politics and outcomes are unclear.
The 'B' (Brexit) word is an example of unstable and unclear… President Trump is another – with the White House remaining on 'fire fighting' duty following POTUS recently suggesting 'sacking' Federal Reserve Chairman, Jerome Powell.
This tweet by President Trump has now been retracted by the White House. Trump's Tweet was clearly unrealistic based upon the Fed's independence of politics. (President Trump seems to leave every option 'on the table' when tweeting!)
So, the longest Bull Market run in history is about to fall over in 2018…. or so it seems!
The 'B' word is a mess, with outcomes unsure for the UK and the Eurozone…. so when could sentiment change, driving a 'Risk on' investment market?
It is always imperative to remain invested during corrections, as the damage inflicted to asset values are unlikely to be recovered by holding another asset class, such as cash.
The 2008 Global financial crisis explains this position clearly. Remaining invested through the cycle actually grew asset prices over the 5 year cycle considerably, from major falls of over 30-40% from well constructed investment portfolios.
Sentiment Change?
There is an old adage when investing; buy when the cannons are roaring and sell when the violins are playing… but it is imperative to remain invested during 'risk off' periods – focusing on the investment duration and goal objective.
If you are focused on obtaining 'risk adjusted returns' that consistently, over the long term, beat inflation and cash like returns, now is a good time to get in touch to have a meaningful conversation about your investment and financial goals and overall financial position. The Christmas period is a good time to reflect on your finances and make a New Year's resolution to 'take action'.
We assure our investors of value and a suitable investment solution to meet their needs now and in the future.
Our office is now closing for 2018 – we return again on 2 January 2019 but our website is open for business 24/7 – 365 days – http://www.bestpricefs.co.uk
We look forward to supporting our clients and customers with quality products and services to suit their needs in 2019 – at a time that requires prudence, make BPFS your 'one stop financial shop'.
We at BPFS would like to take this opportunity to wish you a Merry Christmas and a Happy and Prosperous 2019.

Best Price Team
Please follow and like us:
---
---