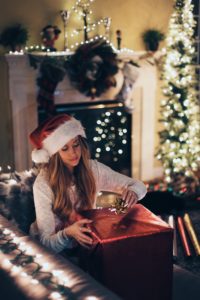 How to keep your presents safe this Christmas
Top of the Christmas priority list – where can we hide the presents so that the kids can't find them?!  Our imagination runs wild with crazy thoughts to make sure that Santa's secret is safe.  In 2018, The Times writes that it is approximated that 292 burglaries happen a day throughout the UK in the month running up to Christmas.
One of the most obvious nights for burglaries to take place is Fireworks night.  It makes sense with regards to the loud bangs and families heading to the nearest displays.  When the hour goes back the nights are darker, and the thoughtful families have already started to get ready for Christmas trying to break up the actual expense and cost of Christmas, so houses are filled brand new and boxed items straight from the shop floor.  Burglars know this. And this is why home and contents insurance are so important at this time of year.
So, our TOP TIPS for keeping your Christmas presents safe in your home are:
Don't leave presents wrapped under the Christmas tree in a window.
Lock windows and doors before you go out.
Lock windows and doors before you go to bed.
Leave a light on when you go out.
Draw curtains when you go out.
Make sure home visitors are genuine – always ask for ID.
Use a UV pen to postcode your valuables and/or new presents.
Why buy home and contents insurance?
The benefits of home insurance are essential to have at this time of year.  Imagine all your Christmas shopping was completed and you were mid-way through the festive season and one cold wintery day you came home and your front door was a jar.  You pushed your front door open and you just knew that someone had kidnapped all of your Christmas spirit.  Heart breaking.  All your thoughts and effort for the season had been stolen.  What would you do?  What if you didn't have insurance? Phone the police and hope for the best?
At least with a home insurance and home contents insurance policy will give you some peace of mind.
What is included in home contents insurance cover?
Home contents insurance will usually include loss, fire, theft and accidental damage.  Is home contents insurance worth it?  Well, you can see why it is, especially at this time of year.  Without home contents cover you would have no help to recover any of the expense that Christmas has cost you.  And it is a silly mistake to make when cover can be affordable, and claims can be made throughout the year – obviously policy depending.
What is the best home insurance policy?
Like every insurance type out there policies need to be catered for your personal needs so always shop around to see what works best for you.  It is important that you don't just take the easy option and find home contents insurance on Money Saving Expert or a comparison site because the cheapest option is necessarily the best option for you.
Yes, we offer home insurance and the home and contents insurance we offer is 5* Defaqto rated and we are proud to be offering Paymentshield.  However, this article is not written to be bias, we are just passionate about getting people covered so that you never find yourself stuck in a sticky situation especially at Christmas time.  And that is why we set out on our mission to always offer the most comprehensive insurance cover for the best price.
Home contents insurance – how does it work?
All insurances offer a different experience, but our hotlines are open 365 days a year, 24 hours a day… just call and speak to someone.  Speaking to someone usually minimises stress in a difficult time.
Click this link to read more about our policy and what we offer:
And whatever you do… have a lovely festive season.
---
---