When looking for the best Income Protection Insurance, it can all get a bit confusing.
Different insurers, comparison sites and brokers will offer you different policies with different payouts, levels of cover and types of premiums,  all for different prices.
Ultimately, you'll want to find the best Income Protection policy for you – one that meets all of your specific needs – but you won't want to pay expensive premiums.
Income Protection is an important and comprehensive insurance policy that provides you with monthly benefits to support you and/or your family if you're out of work. There's always a risk of becoming ill or injured, so if you can't complete your job and pay the bills, Income Protection will act as a safety net to ensure you're able to meet your financial obligations.
Since Income Protection is becoming more of a necessity, it's important to understand how to find the best deal for your cover. Check out this infographic to discover the ins and outs of Income Protection Insurance: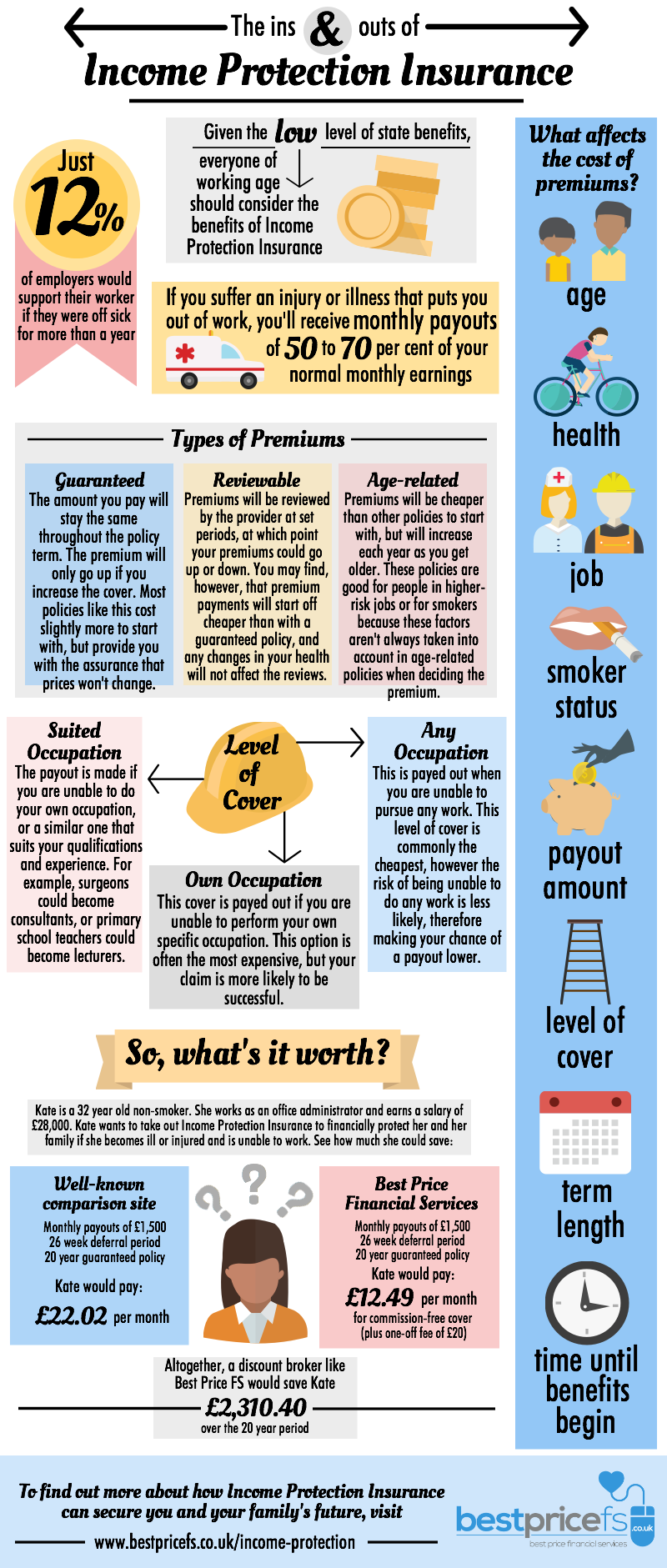 What's next?
Now you know how to cut the costs of premiums without compromising the quality of your cover, you should consider where to buy your policy.
Insurers sell their Income Protection Insurance through brokers and comparison sites as a means of reaching a larger proportion of the market to ultimately gain more sales. This means that buying directly from the insurer can often result in a much more expensive quote – insurers can't undercut the broker in price on the same product, otherwise savvy customers would flock straight to the provider.
Many brokers and comparison sites charge commission, which is not a hefty amount, but over the period of a few years, that extra charge can mount up to hundreds of pounds.
In comparison, a discount insurance broker will charge you a one-off fee for your income protection policy. The difference, of course, is that you will have to pay a fee upfront, but when this is as little as £20 then it's worth it for cheaper monthly rate you'll pay afterwards, which really will save you money.
To find out more about how you can save on your Income Protection Insurance, visit our Income Protection page and compare quotes online.
---
---