This is a guest post from Tina Roth, personal finance blogger at Pro Finance Blog, which discusses life insurance in the US. This article does not constitute financial advice and is for informational purposes only.
---
If you're a first-time life insurance buyer then you'll probably have a lot to think about.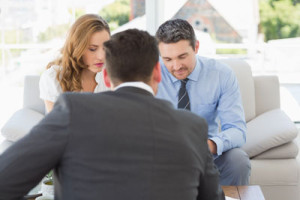 The questions that you are probably asking yourself are "Is the policy right for me?", "Can I trust the company?", and "How much cover should I get?" These are important things to consider, and should be given a great deal of thought before going ahead with a policy.
This article will look to answer those questions for you, providing the tips which can help you shed off all the doubts and choose the life insurance policy that's the best for you.
Check the background of the company
Before buying an insurance policy, you need to do a background check of the company that's selling you the policy. After all, you should be sure you can place your trust in a company before providing them with so many personal details.
The financial position and reputation of the company, existing clientèle and recommendations from previous clients are indicators of whether or not the company can serve its customers best. There are other more pressing issues such as the performance of this company's stock (if it's a public limited company), the number of claims they receive, and the number of claims they accept.
"Good Faith and Fair Dealing" is a policy which consumer-friendly companies solemnly follow. They never unreasonably deny a claim, and they inform the customer upfront about the clauses in the fine print. If the company pitching its life insurance policy doesn't fit these descriptions, then look for another one.
Know which policy type you need
For starters, life insurance policies are of two types; term life and whole of life. A term life insurance policy lasts only for a fixed period of time, whereas a whole of life insurance policy lasts till you die. Which one should you pick?
There's no easy answer. Both types have pros and cons. For example, term life policies are less expensive compared to whole of life policies. However, having a whole of life insurance policy to cover you means in the case of your untimely death, your family members are guaranteed to receive this pay-out, which would help them a lot in future.
If you're making a high-level wage, and have the assurance that you'll continue to earn this amount in the future, then a term life policy may be the best option because it's less expensive. On top of that, if you're saving well alongside this then at the time of retiring, the money you've put away should swell up enough to offset the need for insurance. That being said, whole of life insurance passes on to the insured person's children, or whichever other beneficiaries they've chosen, and this provides a guarantee that there'll be a set amount paid out to them.
Work out the amount of coverage you need
After you select the policy type, next you need to consider the coverage limit. Deciding how much coverage you need is not easy, but in most cases, the death benefit is a minimum of six to eight times the salary of the insured. However, it's important to remember that everyone's personal situation will vary, and thus so will the amount of cover they need. If you're really unsure and can't find the information you need online, for free, it may be worth talking to a financial advisor or an independent broker.
Read the terms and conditions
For your own and your family's protection, make sure there's no ambiguity about the terms and conditions. Important wordings can sometimes be buried in the text, so it's imperative that you give your policy wording a good look over. After all, you don't want to encounter any issues at the point of claim.
More often than not, ambiguities are interpreted in the favour of the consumer. Still, you may need to talk to a lawyer and discuss what happens in case of ambiguities. Know your rights as a consumer, and keep in mind that the obligation of providing information about exclusions lies with the company's agent.
Follow the tips
The four tips discussed here can help you select the right policy and saves you a lot of unnecessary hassles. So follow them and take full advantage of your policy.
What do you think of the tips discussed here? Do you have a life insurance policy? Which tips have you followed? Let us know in the comment section.
Tina Roth is a personal finance blogger at Pro Finance Blog. She covers frugal living, money management, budget, credit and more.
---
---